Featured Item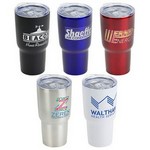 30 Oz. Belmont Vacuum Insulated Stainles...
18/8 Stainless steel construction with double wall insulation. Keeps beverage hot for up to 6 hours, and cold for up to 6 hours - 12 hours with ice. Tapered bottom fits cup holders. Clear plastic push...

Welcome to BRIGHT IDEAS Promotional Products Galore!
SHOP NOW: you'll find some of the best products from some of the favorite factories.
SHOP IN OUR STORE: we have hundreds of samples displayed in our store on Jefferson.
WE'LL SHOP FOR YOU: Don't see what you are looking for? Want other ideas? We have many more products to offer! Let us know about your event, audience, budget, colors and time frame -- and we'll look for a perfect match.
IMPRINTED RIGHT! ON SITE! We have the equipment and skilled designers & operators to engrave awards, design & manufacture signs & banners, embroider and screen print and more.