Featured Item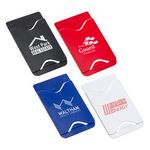 Mobile Wallet
Holds credit card, drivers license or several business cards. Easily attaches to the back of your phone with adhesive strips provided on back. 3 5/8" L x 2 1/4" W x 3/16" D

Welcome!
SNOWFLAKES IN THE WINTERTIME!
Guess How Much Snow Will Fall this Winter! You Might Win a Prize!
We're getting more snow this year -- how many flakes & flurries will we get?
Send your guess to your account manager:
Snowfall in half-inch increments.
The official measire by the National Weather Office at the sunport will determine the winner.
Ties - the first submitted guess will win.
Submit your guess by January 15.

The contest will end at the end of Winter, and announced on March 20.
We Have Great Promotional Products
and the BRIGHT IDEAS to Make Them Work for You!
SHOP NOW: you'll find some of the best products from some of the best factories!
SHOP IN OUR STORE: we have hundreds of samples displayed in our store on Jefferson.
WE'LL SHOP FOR YOU: Don't see what you looking for? Want other ideas? We have many more products to offer! Let us know about your event, audience, budget, colors, and time frame - and we'll look for ideal products and deals.
IMPRINTED RIGHT! ON SITE! Awards engraving, embroidery & screen printing, signs & banners, pad printing, buttons & more!